White Styled Models (Various Scales)
There are certain occasions when a white styled model is a better option than a fully coloured model. For example, if the building colours and materials haven't actually been finalized, the white styling allows you to avoid the issue. People will look at the monochromatic model and understand straight away that it is an architecturally stylized representation of the scheme and not meant to be taken literally. This is often useful for planning consultation models or working models investigating massing and general layout. A further advantage of the white model approach is that it usually quicker to make and hence less expensive.
Saint Petersburg Marina – Scale 1:750 One of the most significant features about this masterplan model is the high level of detail that can be achieved at this very small scale (all buildings are under 35mm tall). And for added impact, the buildings could all be illuminated at the touch of a button (see Illuminated Models section). The model was built on a very tight schedule and shipped off to Russia (in a purpose-built flight box) to be used as the centrepiece of a major presentation.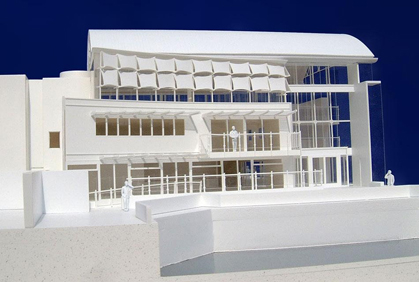 White Cut-away Model – Scale 1:100 An all white, part model built to illustrate the internal and external spatial arrangement for an extended café facility on a former industrial building. 1:100 is an excellent scale for showing internal views of buildings.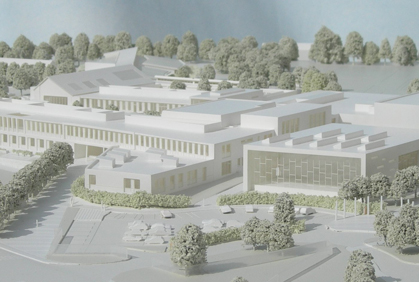 School Model – Scale 1:400 A white stylized model of a proposed school with accurate land forming to show how the sports pitches and buildings are accommodated on this sloping site. Whilst the general look is stylized, the buildings are made to fairly detailed level.
After completing these two white styled models of the Swansea Lagoons tidal energy project we were surprised to discover they had been the focal point for a presentation to the Prime Minister David Cameron (apparently they couldn't tell us beforehand for security reasons). The models are both at 1:1000 scale and show two different areas of the proposed lagoon structure. If you click on the images to enlarge them you'll see that even at this small scale (1mm represents 1 metre) we can show a high level of detail.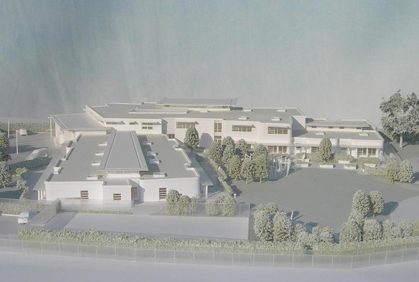 School Model – Scale 1:200 A good example of a detailed white styled model, showing how informative this stylized architectural look can be. It's a particularly useful approach when a model needs to be produced before final decisions have been made on colours and finishes of external materials.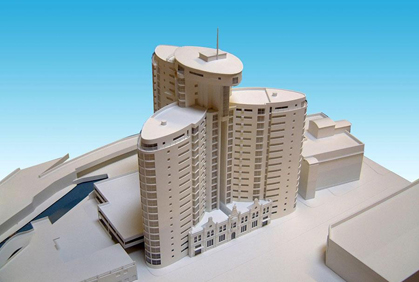 White Apartment Tower - Scale 1:200 Two identical models of this dramatic building were produced at short notice, one for a nearby marketing suite and one for an exhibition in Saudi Arabia.
Riverside Apartments – Scale 1:250 The client chose 1:250 scale for this model because he wanted to show a good level of detail in the building but needed the model to be reasonable easy to transport. The model was used to provide a clear illustration of the scheme to the planners and the public.
Masterplan Model for Proposed Retail Centre – Scale 1:500 From the photo it's very hard to appreciate that the buildings in this image are only approximately 20mm tall, such is the level of detail we are able to achieve at this very small scale. Showing the general overview of a proposed new town centre development this is an unusual project in that these type of masterplan models typically only have simplified massing blocks for the buildings.
Architectural Models Exhibition Models Industrial Models and so much more...
View our Gallery >
"Steven's studio is a pleasure to work with. He does excellent work and he always delivers on time. I would be happy to recommend him to anyone."
Jonathan Adams (Architect for Wales Millennium Centre) Capita Percy Thomas
"Thanks very much to all the team for producing such an excellent model, the attention to detail is fantastic. I look forward to working with you again."
Carolyn Merrifield
Downs Merrifield Architects
"Modelmakers' models are of fantastic quality, and allow us to sell our properties more effectively from plan. Not only are the team courteous and helpful, they produce the goods on time, and importantly are competitively priced."
Holly Finer
Redrow Homes
"The attention to detail and quality is exemplary and we would just like to thank you and your team for the care and effort you've put in. As a practice we will definitely bear you in mind if ever we are requiring models built in the future."
Kelvin Naidoo
Bryden Wood Associates
Architects and Designers for Manufacture
See all testimonials