Architectural Models 1:200 Scale (5mm represents 1 metre)
1:200 scale is typically used for models of schemes comprising several large buildings or residential developments comprising dozens of houses. The scale is large enough to show a good level of recognisable detail but small enough to prevent the overall size of the model becoming impractical in terms of the amount of space required in a sales office. If the site is particularly big 1:250 scale is also a good option.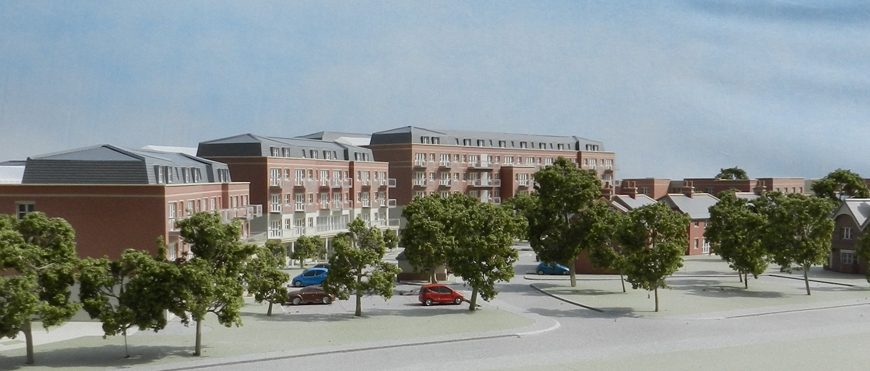 Retirement Village The developer for this complex group of buildings needed a realistically detailed 3D model to illustrate how the individual buildings formed a linked community of retirement housing. Our solution was this full colour 1:200 scale model which showed plenty of recognisable detail but was compact enough to fit into their sales office. When we delivered the finished model the client emailed straight away with the comments "…can I just say the model of the village looks stunning".
Biogas Waste Treatment Plant Our second major project for GlaxoSmithKline, this model demonstrates how the company harnesses biogases from their waste treatment process to fuel a newly installed Combined Heat & Power facility. The colour coding of the pipes indicates the different stages of the treatment process. We subsequently updated this project to include a touch-screen information panel linked to interactive illumination on the model (see Interactive Models above).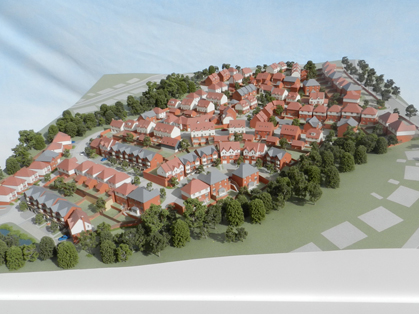 Hillside Housing This was a technically demanding project because it comprised over 150 units on a steeply sloping site. Many of the houses were split level properties and each plot required accurate modelling of retaining walls, complex access steps, and carefully designed embankments in the gardens. This model was actually at 1:250 scale but if you click on the image to enlarge it you'll see we've still been able to achieve a high level of detail.

Housing Development Another typical marketing model for a new housing development - we have produced scores of these models over the years. This particular example was for one of the UK's largest house builders who keep coming back to us because of the high quality of our work and the reliability of our service. 1:200 scale is an ideal option for these type of housing development models.
Dockside Apartments, South Coast Six elevated apartment blocks with a raised central walkway and visible parking decks underneath made this a very technically demanding model. Added to which, three independent lighting systems illuminated different aspects of the model, including an individual control for each building.

Holiday Resort Site Model This 2.3 metre long model was commissioned to showcase the new development proposals at a Butlins holiday resort. The model shows the first phase of the development in full colour whilst the phase 2 proposals for a new hotel are shown at a simplified, monochromatic level (top right corner of pic). An important requirement for the model was that it should illustrate the attractive landscaped setting – the client was very pleased with the final result.
Plasma Power Station Model The brief for this project was to create a stylized representation of this power station that could be packed into a travel case and taken as hand luggage on international flights. The only way this was possible was to make the model in two halves that stacked back to back inside the foam-lined case. The chimney stacks were too tall to fit so we designed them to be unscrewed and packed flat during transit.
Architectural Models Exhibition Models Industrial Models and so much more...
View our Gallery >
"Steven's studio is a pleasure to work with. He does excellent work and he always delivers on time. I would be happy to recommend him to anyone."
Jonathan Adams (Architect for Wales Millennium Centre) Capita Percy Thomas
"Thanks very much to all the team for producing such an excellent model, the attention to detail is fantastic. I look forward to working with you again."
Carolyn Merrifield
Downs Merrifield Architects
"Modelmakers' models are of fantastic quality, and allow us to sell our properties more effectively from plan. Not only are the team courteous and helpful, they produce the goods on time, and importantly are competitively priced."
Holly Finer
Redrow Homes
"The attention to detail and quality is exemplary and we would just like to thank you and your team for the care and effort you've put in. As a practice we will definitely bear you in mind if ever we are requiring models built in the future."
Kelvin Naidoo
Bryden Wood Associates
Architects and Designers for Manufacture
See all testimonials