Exhibition Models & Displays
When it comes to exhibitions, it's being different that makes the difference.
Modelmakers specialise in designing and building high quality exhibition models and displays that are uniquely tailored to your needs. From concept to construction, we'll help you to create a display that communicates exactly what your business is about. If your product or service is difficult to visualize or expensive to transport, we can create a custom-built, eye catching exhibition model that draws people to your stand and allows you to tell your story with ease. Some of our previous exhibition displays can be seen below – for further examples make sure you also view our Industrial Models page.
Moving Lights Display Featuring pulsing white LEDs, this illuminated display illustrating the workings of a power station had to "Flat-pack" into a flight case for transport to the USA. Comprising 8 main panels, it was designed as a mobile display the client could set up themselves at different venues.
Military Equipment Model "PURIBAD" – Scale 1:10 Platform, Universal, Rigid Inflatable Boat, Airborne Delivery... the name is an acronym for a platform specially designed for parachuting ready-to-go speedboats (or RIBs) into the sea. The model was commissioned as a demonstration tool for use at exhibitions. The client needed all the working components to be accurately modelled (hooks, straps, spring release clips, etc) so that he could explain the simplicity of the design and what made it such a reliable, proven system. It was a challenging project because of the high level of detail required and the wide variety of model making techniques needed to make all the model components.

Food Training Models This set of five unusual models were commissioned by a college as training aids for teaching about food hygiene and preparation. Essentially the models are three dimensional graphic devices to help give students a better understanding of the composition of different food products. Producing the models required the application of many different model making techniques and materials, as you can see from the diverse character of the finished displays.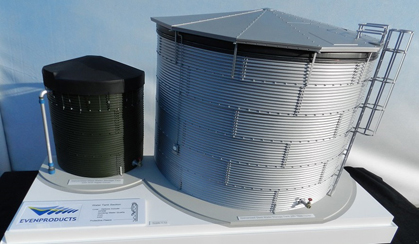 Water Tank Model – Scale 1:12 The client for this project wanted a model that would be an eye catching centrepiece on their stand at several trade shows throughout the coming year. The company produces a wide range of water tanks for markets all over the world and they wanted the model to illustrate several technical details about their products, both inside and outside. For this reason we made the models as half tanks so the inside could be viewed as well as the exterior. We also provided a purpose-built flight case to protect it during shipping.
Sub-sea Control Module – Scale 1:1 Not all the models we make are scaled down to a smaller size. This model of a sub sea control module (used in the deep sea oil industry) is life-size replica of the real thing. The model is about 900mm square and was commissioned because the client wanted a lightweight version of the product to take to exhibition venues. The real unit was extremely heavy and difficult to transport whereas our lookalike version, made from thin plastics, could be easily lifted by two men.
Architectural Models Exhibition Models Industrial Models and so much more...
View our Gallery >
"Steven's studio is a pleasure to work with. He does excellent work and he always delivers on time. I would be happy to recommend him to anyone."
Jonathan Adams (Architect for Wales Millennium Centre) Capita Percy Thomas
"Thanks very much to all the team for producing such an excellent model, the attention to detail is fantastic. I look forward to working with you again."
Carolyn Merrifield
Downs Merrifield Architects
"Modelmakers' models are of fantastic quality, and allow us to sell our properties more effectively from plan. Not only are the team courteous and helpful, they produce the goods on time, and importantly are competitively priced."
Holly Finer
Redrow Homes
"The attention to detail and quality is exemplary and we would just like to thank you and your team for the care and effort you've put in. As a practice we will definitely bear you in mind if ever we are requiring models built in the future."
Kelvin Naidoo
Bryden Wood Associates
Architects and Designers for Manufacture
See all testimonials