Industrial Models
Models of Factories, Machinery & Equipment
We are often asked to produce scale models of industrial machines or equipment, from quite simple representations to highly detailed, very realistic-looking replicas. These industrial models are normally used at trade shows or exhibitions, but a few have been commissioned simply for display in board rooms or reception areas. Scroll down to see a wide and varied selection of the industrial models we have produced in the past (visit our Exhibition Models page for more).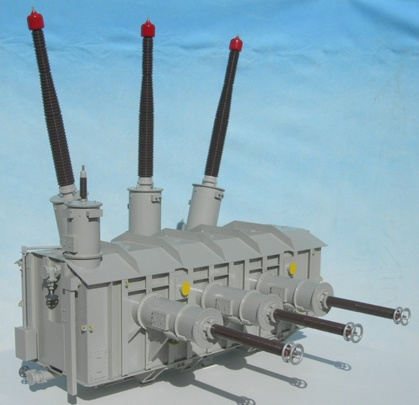 Transformer Model – Scale 1:20 The client for this project was on site in India when we first sent him images of the finished model. His comments were... "Absolutely brilliant, I'm here in India with the Senior Project Manager who managed this project for 2 years and he can't believe it's just a model". We were particularly pleased with the results ourselves, especially as it was such a technically demanding project due to the need for a high level of accuracy and very authentic detailing. The model is made predominantly out of laser-cut acrylic components with very careful hand finishing and assembly, plus a final coat of paint of course. It was mounted on a square base with a Perspex cover (overall dimensions about 650mm high). The client was so pleased with this model they came back to us for 4 more models of a different design (scroll down to see pics).
GSK Biogas Waste Treatment Plant – 1:200 Scale This is the second major project we've completed for the blue chip pharmaceuticals manufacturer GlaxoSmithKline who demand the very highest standards from all their suppliers and sub contactors. The previous model, a 3D representation of their penicillin manufacturing plant (shown further down this page) was used as an orientation tool for visitors to the site. This new model demonstrates how the company harnesses biogases from their waste treatment process to fuel a newly installed Combined Heat & Power facility. The colour coding of the pipes indicates the different stages of the treatment process. You'll notice they have also installed a large wind turbine on the site to further demonstrate their commitment to sustainable energy. We subsequently updated this model to include a touch-screen information panel linked to interactive illumination on the model (see Interactive Models above).
Military Equipment Model "PURIBAD" – Scale 1:10 Platform, Universal, Rigid Inflatable Boat, Airborne Delivery... the name is an acronym for a platform specially designed for parachuting ready-to-go speedboats (or RIBs) into the sea. The model was commissioned as a demonstration tool for use at exhibitions. The client needed all the working components to be accurately modelled (hooks, straps, spring release clips, etc) so that he could explain the simplicity of the design and what made it such a reliable, proven system. It was a challenging project because of the high level of detail required and the wide variety of model making techniques needed to make all the model components.
These two industrial models for completely differing industries were completed around the same time. One of the models shows a Biogas boiler set in a monochromatic context (to highlight the boiler) and the other shows a water purification system. Both models were for use at trade shows/exhibitions in UK and abroad and were supplied with purpose-built flight cases. The water purification model was one of a pair and actually had removable panels to show the interior workings but for confidentiality reasons we are unable to show these views. The Biogas boiler model featured white LED uplighters to highlight it within the general plant room context. Unfortunately it was only after the model had gone that we realised we didn't have any photos with the lights on!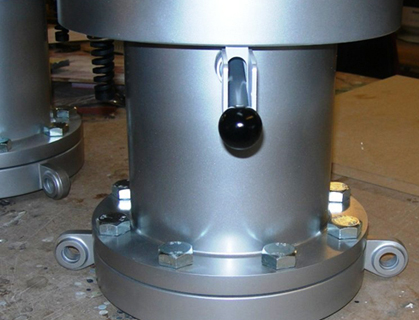 Industrial Model of Profiler - Scale Actual Size This was a life-size industrial model of a piece of equipment that "profiles" the contents of large storage tanks for oil and associated industries. The client already had a steel mock up of the real thing but it was incredibly heavy and therefore difficult to transport. Made predominantly from plastics, our model was much lighter. We actually produced three identical units which included 500mm diameter acrylic display tubes and purpose-built flight boxes. They have been sent off to exhibition venues in various parts of the world.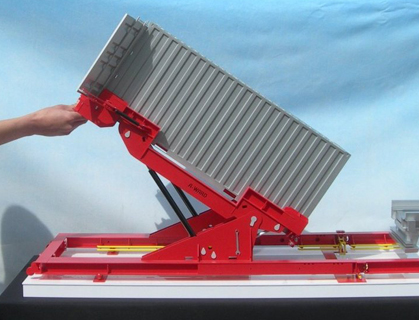 Industrial Model of Container Tilter – Scale 1:10 This unusual, life-size model was designed to illustrate the technical aspects of the client's product at a trade exhibition. The product is a moulded paver panel that creates durable and attractive parking and vehicle access areas, with a choice of either gravel or grass top filling. Essentially, the model shows a typical construction method from surface to subsoil level. The whole thing comes apart for easy transportation and the client has since added branding to the panel in the centre of the tyre.
Pharmaceutics Factory Model – Scale 1:75 GlaxoSmithKline needed a simplified representation of this facility to help illustrate the processes involved in Penicillin production. Our solution was this stylized 3D representation of the building with floor plates in clear acrylic, allowing the viewer to appreciate, at a glance, the vertical and horizontal layout of all the major industrial components involved in the process. Creating the model involved deciphering and rationalizing a huge volume of technical drawings so that we could design a pared down representation of the main production equipment. A crucial part of this process was keeping an ongoing dialogue with the client to make sure we were interpreting the information correctly. At just over 2.4 metres long, the model can be easily viewed by a group of people, making it an ideal starting point for a tour of the building.
Plasma Power Station Model – Scale 1:250 The brief for this project was to create a stylized representation of this power station building that could be packed into a travel case and taken as hand luggage on international flights. This meant the overall dimensions of the case had to be no bigger than 560 x 450 x 240mm. The only way this was possible was to make the model in two halves that stacked back to back inside the foam-lined case. The chimney stacks were too tall to fit so we designed them to be unscrewed and packed flat during transit.
Three Industrial Transformer Models – 1:20 Scale We had already made one transformer model for this client (shown above) and it generated such a positive response from their overseas colleagues that they came back to us for four more, one for UK use and three to send abroad. The three models shown in the picture were the export orders; one went to Brazil and two to China. If you compare these models with the one above you'll see that these are a completely different design but are made to the same very high standard. Click on the image to see a close up showing the high level of detail we can achieve at this large scale (the models are over a metre long).
Architectural Models Exhibition Models Industrial Models and so much more...
View our Gallery >
"Steven's studio is a pleasure to work with. He does excellent work and he always delivers on time. I would be happy to recommend him to anyone."
Jonathan Adams (Architect for Wales Millennium Centre) Capita Percy Thomas
"Thanks very much to all the team for producing such an excellent model, the attention to detail is fantastic. I look forward to working with you again."
Carolyn Merrifield
Downs Merrifield Architects
"Modelmakers' models are of fantastic quality, and allow us to sell our properties more effectively from plan. Not only are the team courteous and helpful, they produce the goods on time, and importantly are competitively priced."
Holly Finer
Redrow Homes
"The attention to detail and quality is exemplary and we would just like to thank you and your team for the care and effort you've put in. As a practice we will definitely bear you in mind if ever we are requiring models built in the future."
Kelvin Naidoo
Bryden Wood Associates
Architects and Designers for Manufacture
See all testimonials