Product Models
A substantial part of our work involves making product models: working models of new products. Often known as 'appearance models', these mock-ups can be invaluable tools for demonstrating new concepts to potential investors or customers.

Whether it's a one-off sample or a small batch production run, give us your drawings and we'll give you a perfect replica of your product. Contact us now for details.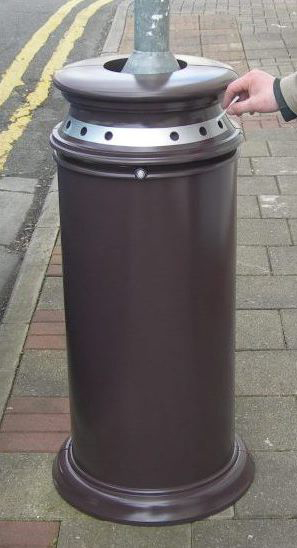 Wrap-around Waste Bin prototype model – Scale 1:1 This model of a prototype wrap-around waste bin (for cigarette butts) was used to demonstrate how it could be retro fitted to any street furniture or signs. The client needed a working mock-up he could take to meetings to show how it could be easily locked together around different sized poles/posts. The design required the model to be made in four sections that fitted perfectly together. (Read the client's positive comments on our Testimonials page).
Architectural Models Exhibition Models Industrial Models and so much more...
View our Gallery >
"Steven's studio is a pleasure to work with. He does excellent work and he always delivers on time. I would be happy to recommend him to anyone."
Jonathan Adams (Architect for Wales Millennium Centre) Capita Percy Thomas
"Thanks very much to all the team for producing such an excellent model, the attention to detail is fantastic. I look forward to working with you again."
Carolyn Merrifield
Downs Merrifield Architects
"Modelmakers' models are of fantastic quality, and allow us to sell our properties more effectively from plan. Not only are the team courteous and helpful, they produce the goods on time, and importantly are competitively priced."
Holly Finer
Redrow Homes
"The attention to detail and quality is exemplary and we would just like to thank you and your team for the care and effort you've put in. As a practice we will definitely bear you in mind if ever we are requiring models built in the future."
Kelvin Naidoo
Bryden Wood Associates
Architects and Designers for Manufacture
See all testimonials