Large Scale Models (Various Scales)
At larger scales such as 1:50, 1:20, 1:12, etc., we can produce highly detailed models that create a very realistic and impressive representation of your project. This high level of detail is particularly eye catching at exhibitions and trade shows and will often draw passers-by to your stand because they want to have a closer look at your model.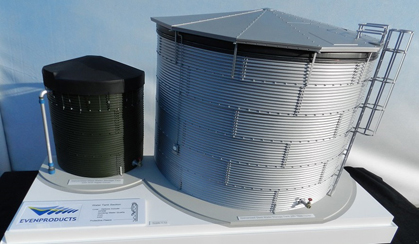 1:12 Scale Water tank Model The client for this project wanted a model that would be an eye catching centrepiece on their stand at several trade shows throughout the coming year. The company produces a wide range of water tanks for markets all over the world and they wanted the model to illustrate several technical details about their products, both inside and outside. For this reason we made the models as half tanks so the inside could be viewed as well as the exterior. We also provided a purpose-built flight case to protect it during shipping.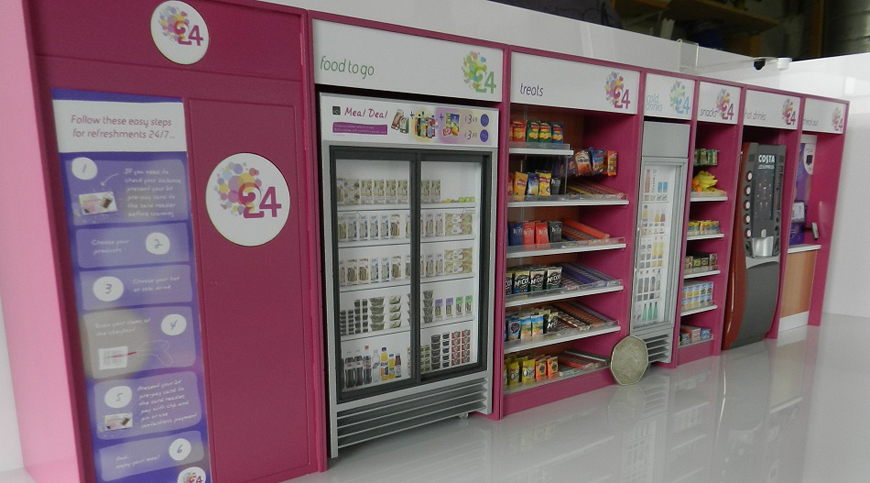 1:15 Scale Model for "Micromart" Demonstration This very detailed model (actually a set of separate models) was commissioned as a demonstration tool that could be safely transported and easily set up in potential customer's premises. With portability in mind we designed the model as a set of individual units that could be packed into a specially tailored travel case. The units are only 140mm tall but are made with realistic detail so that their function is instantly recognisable. To complete the picture we also created a "flat-pack" room setting made from white acrylic panels.
1:50 Scale White Styled Street Scene At 1:50 scale you can see through the windows into the room spaces of these stylized house models and get a sense of the spacial organisation inside the buildings. This model demonstrated the simple but elegant functionality of these proposed new house designs. The model was well received at the Ideal Homes show and we were subsequently asked to extend the "street scene" with two further houses from the luxury end of the range.
Architectural Models Exhibition Models Industrial Models and so much more...
View our Gallery >
"Steven's studio is a pleasure to work with. He does excellent work and he always delivers on time. I would be happy to recommend him to anyone."
Jonathan Adams (Architect for Wales Millennium Centre) Capita Percy Thomas
"Thanks very much to all the team for producing such an excellent model, the attention to detail is fantastic. I look forward to working with you again."
Carolyn Merrifield
Downs Merrifield Architects
"Modelmakers' models are of fantastic quality, and allow us to sell our properties more effectively from plan. Not only are the team courteous and helpful, they produce the goods on time, and importantly are competitively priced."
Holly Finer
Redrow Homes
"The attention to detail and quality is exemplary and we would just like to thank you and your team for the care and effort you've put in. As a practice we will definitely bear you in mind if ever we are requiring models built in the future."
Kelvin Naidoo
Bryden Wood Associates
Architects and Designers for Manufacture
See all testimonials