Interactive Models
An interactive model communicates so much more.
If you have a complex story to tell or a lot of information to convey, an interactive model is the most effective way to engage your audience and get your message across. The level of interactivity can range from a few buttons that light up key areas on the model to a full touch-screen interface that activates multiple lighting zones and displays on-screen information (such as the Cardiff City Masterplan model – see below).

If you look through our previous projects, you'll see that we can also make things pop up, light up, flash, float, pulsate or rotate, all with interactive speed or direction controls. Scroll down now and see what we can do. Make sure you also click on the links for more detailed information.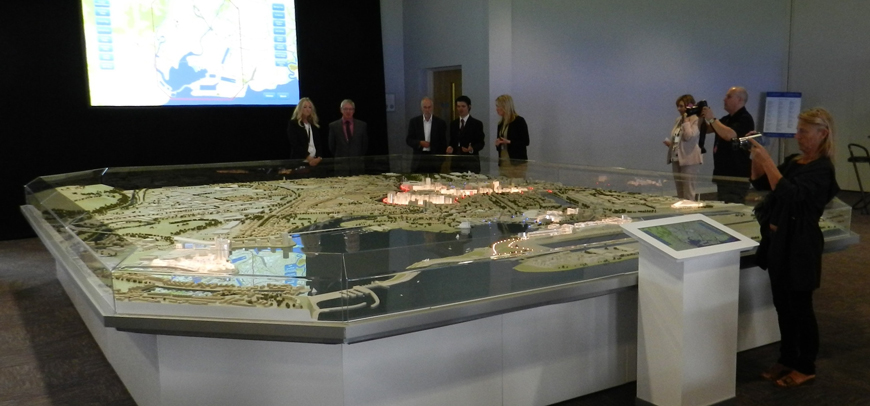 Cardiff City Masterplan Model – Scale 1:750 1:750 is an ideal scale for masterplan models showing an overview of large redevelopment areas. This 6.5m x 5.5m interactive model of the city of Cardiff took almost 5 months to design and build. The model has been designed for use in a permanent marketing suite to promote the city of Cardiff to national and international investors. It is a fully interactive model controlled via a large touchscreen which activates over 30 different lighting zones on the model and at the same time displays relevant information pages on the screen. The screen images are also projected onto a large screen so that the information is visible to all.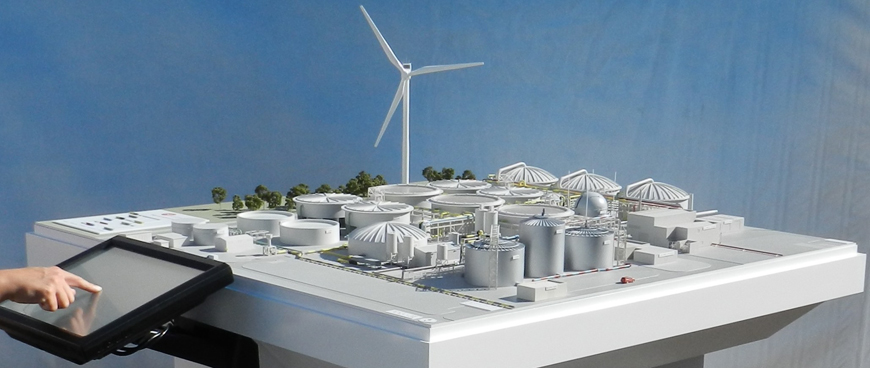 GlaxoSmithKline Interactive Model – Scale 1:200 Originally built as a static model, GSK asked if we could add an interactive element to help convey a more detailed representation of their sustainable energy and waste treatment processes. Our solution was to add a touchscreen information panel linked to area specific illumination on the model. This was the second major project we've completed for the blue chip pharmaceuticals manufacturer GlaxoSmithKline who demand the very highest standards from all their suppliers and sub contactors. The main aim of this model was to demonstrate how the company harnesses biogases from their waste treatment process to fuel a newly installed Combined Heat & Power facility. On the original static model colour coding of the pipes indicated the different stages of the treatment process. The addition of the interactive touch screen and pulsing lights on the model allowed us to create a much more engaging and informative presentation. View more photos on our Projects Archive.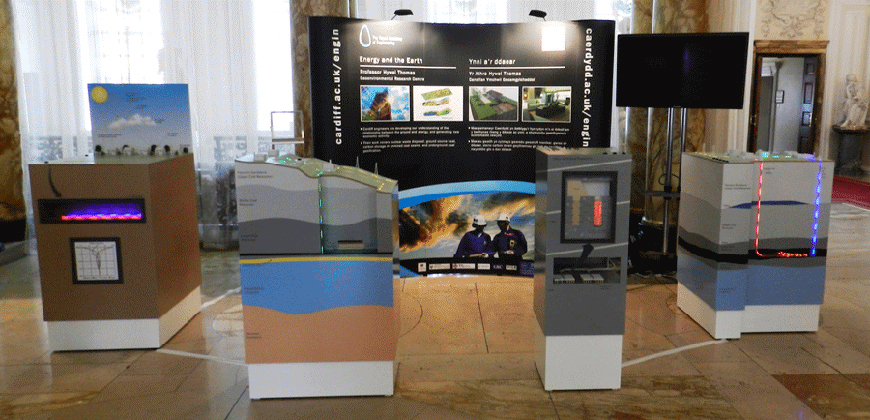 Interactive models for Engineering Exhibition This group of four interactive models was commissioned by the Cardiff University School of Engineering for their stand at the Royal Academy of Engineering Summer Soiree. The models were used to highlight the university's extensive research in the field of geo-engineering (underground engineering), covering areas such as nuclear waste containment, ground source heating and other underground activities. The models represent cut-away views of the earth's strata, using different coloured LEDs to illustrate the various processes happening in the layers of rock and sediments. The lights, which were activated by labelled buttons on top of the models, had to recreate several different effects, including linear flows, pulsing, slow fades, changing colours, random flashing, and some complex, timed sequences. See more images in our Projects Archive.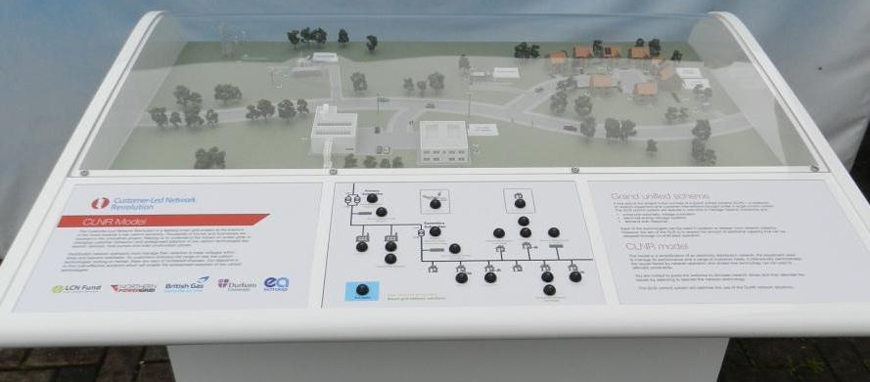 CLNR Interactive Model for Northern PowerGrid CLNR stands for Customer Led Network Revolution, a method of optimizing the power supply network based on immediate reaction to varying customer demands. The purpose of this model was to illustrate Northern Powergrid's strategies for maximizing the efficiency of their supplies to both domestic and commercial users. The model looks deceptively simple but actually features some complex programming to demonstrate how the network adjusts to the demands of different users at different times of the day, including storing surplus power for later use. The button panel allows the user to set up varying power requirements which are indicated by lights on the model (turning red) and then press further buttons that illustrate how the demands are resolved (turning the lights green) with energy efficient systems and procedures. See more images in our Projects Archive.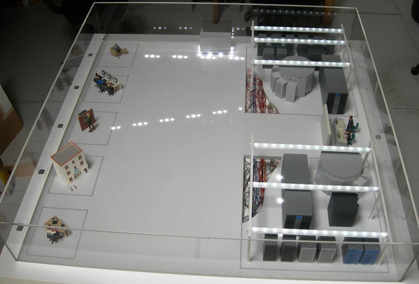 Interactive Model of Data Centre Systems for International Bank Some projects are very hard to explain in just a few lines, and this is definitely one of them. The aim of this model was to provide a visual demonstration of the complex networks involved in data handling and storage for the various services of a major international bank. It was a fully interactive model with the viewer able to press seven different labelled buttons which would then illustrate through complex sequences of moving lights how the data for each banking operation is processed and stored.
Fantasy Ice Cream Machine The brief for this project was just a rough sketch and a verbal description - a working fantasy ice cream machine to go into a brand new, ice-white themed, children's party room. On a very tight budget we came up with this design featuring lots of buttons to press, revolving poles, moving lights, sound effects, voice-over instructions and incorporating a working freezer in the middle as well as hoppers for dispensing various toppings. Because of the tight budget we had to keep the cabinet design very simple. The idea of the machine is that children can "make their own ice cream" and add whatever toppings they want.
Moving Lights Display Featuring pulsing white LEDs, this illuminated display illustrating the workings of a power station had to "Flat-pack" into a flight case for transport to the USA. Comprising 8 main panels, it was designed as a mobile display the client could set up themselves at different venues.
Architectural Models Exhibition Models Industrial Models and so much more...
View our Gallery >
"Steven's studio is a pleasure to work with. He does excellent work and he always delivers on time. I would be happy to recommend him to anyone."
Jonathan Adams (Architect for Wales Millennium Centre) Capita Percy Thomas
"Thanks very much to all the team for producing such an excellent model, the attention to detail is fantastic. I look forward to working with you again."
Carolyn Merrifield
Downs Merrifield Architects
"Modelmakers' models are of fantastic quality, and allow us to sell our properties more effectively from plan. Not only are the team courteous and helpful, they produce the goods on time, and importantly are competitively priced."
Holly Finer
Redrow Homes
"The attention to detail and quality is exemplary and we would just like to thank you and your team for the care and effort you've put in. As a practice we will definitely bear you in mind if ever we are requiring models built in the future."
Kelvin Naidoo
Bryden Wood Associates
Architects and Designers for Manufacture
See all testimonials