Illuminated Models (Various Scales)
Incorporating special lighting effects can give a model an extra dimension. There are various ways we can do this – general illumination within the building, up-lighting round the building with fibre optics, or adding 'street lights' to the roads, car parking areas and communal garden areas.
We can even add keypad controlled illumination of individual rooms or apartments or specific sections of buildings. The options are wide and varied so we are happy to come up with tailor-made recommendations for individual projects.
Cardiff Bay Marketing Model - Scale 1:500
Built to illustrate the proposed scale of several major development areas in a prime waterside location, this model used illumination to highlight the key sites in the project. Each of 11 different plots can be illuminated individually at the touch of a button.

Saint Petersburg Marina – Scale 1:750
Incorporating battery powered white LEDs, all the buildings on this white styled masterplan model could be illuminated at the touch of a button. Another significant feature about this model is the high level of detail that can be achieved at this very small scale (all buildings are under 35mm tall). The model was built on a very tight schedule and shipped off to Russia (in a purpose-built flight box) to be used as the centrepiece of a major presentation.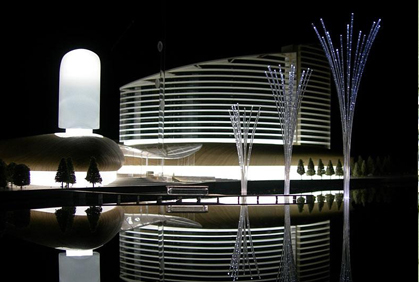 International Sports Village - Scale 1:500
A 1:500 scale site model for the proposed international sports village in Cardiff Bay. The client wanted to combine wood, Perspex, white surfaces and bright illumination in what is essentially a concept model with the theme "Snow, ice, fire, water".
Hospital Massing Model - Scale 1:500
Designed to illustrate the massing and general layout of a proposed major hospital extension this 1:500 scale model used illumination to differentiate between the new-build areas and the unlit existing hospital buildings.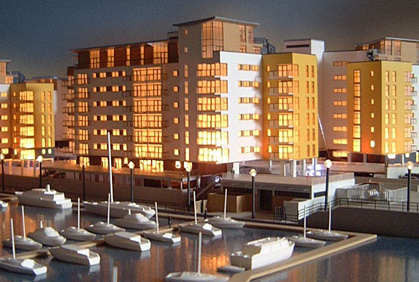 Dockside Apartments - Scale 1:200
This complex model featured six elevated apartment blocks enhanced by three independent lighting systems illuminating different aspects of the development, including an individual control for each building.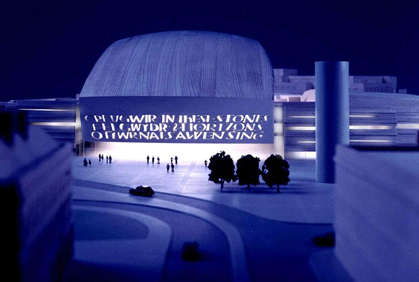 Wales Millennium Centre - Scale 1:200
Bright illumination brings life to the main entrance of the new Performing Arts Theatre in Cardiff Bay. The 1:200 scale model was made mostly from wood to echo the natural materials chosen for the finish of the building.
Apr
2015
Two 1:400 scale models of parcel handling depot UK Mail ordered...
Read More
View All Projects
"Steven's studio is a pleasure to work with. He does excellent work and he always delivers on time. I would be happy to recommend him to anyone."
Jonathan Adams
(Architect for Wales Millennium Centre)
Capita Percy Thomas
"Thanks very much to all the team for producing such an excellent model, the attention to detail is fantastic. I look forward to working with you again."
Carolyn Merrifield
Holder Mathias Architects
"Modelmakers' models are of fantastic quality, and allow us to sell our properties more effectively from plan. Not only are the team courteous and helpful, they produce the goods on time, and importantly are competitively priced."
Holly Finer
Redrow Homes
"The attention to detail and quality is exemplary and we would just like to thank you and your team for the care and effort you've put in. As a practice we will definitely bear you in mind if ever we are requiring models built in the future."
Kelvin Naidoo
Bryden Wood Associates
Architects and Designers for Manufacture
More testimonials >>