Architectural Models 1:750 Scale
(1.33mm represents 1 metre)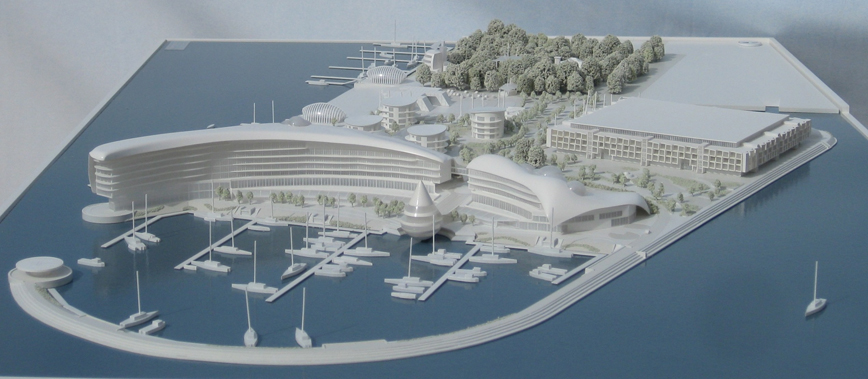 Saint Petersburg Marina
One of the most significant features about this model is the high level of detail that can be achieved at this very small scale (all buildings are under 35mm tall). And for added impact, the buildings could all be illuminated at the touch of a button (see Illuminated Models section). The model was built on a very tight schedule and shipped off to Russia (in a purpose-built flight box) to be used as the centrepiece of a major presentation.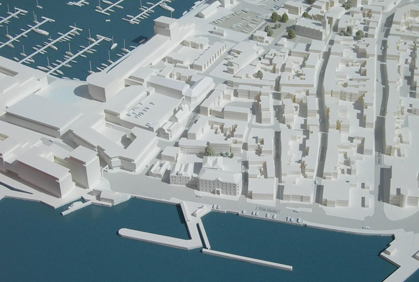 Block Model for Proposed Harbour Redevelopment
This model demonstrates how three different levels of detail can be combined to create an informative, attractive but not overly expensive block model. The ordinary off-site context buildings are made with very simplified flat roofs; the landmark off-site buildings are made to a very detailed recognizable level, while the proposed new buildings (which are still only a concept design) are made to crisply detailed level somewhere in between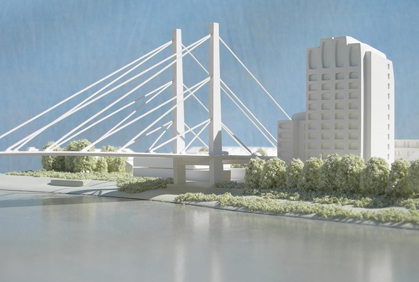 Planning Application Model
This is another excellent example of how clear and informative a 1:750 scale model can be, despite the main building being less than 50mm tall. The proposed new building is made to a surprisingly detailed level with crisp representation of the architecture, including window fenestration. This style of model is quick and relatively inexpensive to produce but the clean, fresh appearance has charm and clarity, which goes a long way to help sell a scheme.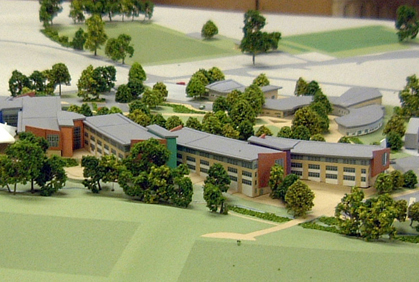 Detailed School Model
It's surprising how much detail can be shown at this small scale and this model is an excellent example. The use of colour brings the detail to life and gives a very realistic impression of how the proposed new buildings will look. The model was accurately contoured to show how the group of buildings stepped down the sloping site.
Redevelopment Area Planning Model
This model was used to evaluate different proposals for a city centre redevelopment area. We built the context model and supplied templates so that each developer could create a drop-in panel that would fit into the main model. The model had various lighting features including a button that demonstrated the path of a famous FA Cup goal at the local stadium, complete with original commentary from a hidden speaker.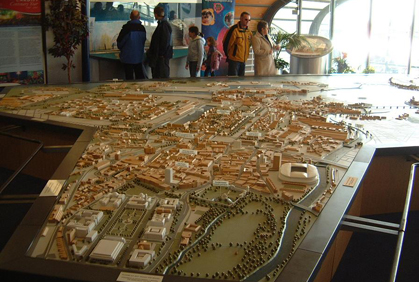 Cardiff Bay Visitor Centre Model (Rebuild/Refurbish)
Originally built in 1990, this huge model was in dire need of updating and refurbishing. The whole model had to be dismantled and brought to our workshops (in 28 pieces), where it was stripped back to its original components and completely re-sprayed and rebuilt. It was then reassembled back at the visitor centre, looking as good as new and ready for 15 more years of service. The buildings are made from beech wood. Some landmark buildings are highlighted in white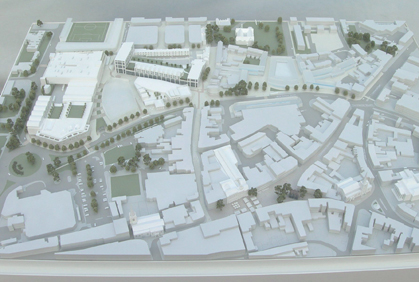 Masterplan Model
The grey and white tones of this city centre masterplan model show an alternative monochromatic styling that can be adopted for these types of models. In this particular project the white buildings represent the proposed new build whist the light grey buildings show the existing townscape. If you click on the "enlarge image" button you'll see that the new build is shown at a fairly detailed level.
Apr
2015
Two 1:400 scale models of parcel handling depot UK Mail ordered...
Read More
View All Projects
"Steven's studio is a pleasure to work with. He does excellent work and he always delivers on time. I would be happy to recommend him to anyone."
Jonathan Adams
(Architect for Wales Millennium Centre)
Capita Percy Thomas
"Thanks very much to all the team for producing such an excellent model, the attention to detail is fantastic. I look forward to working with you again."
Carolyn Merrifield
Holder Mathias Architects
"Modelmakers' models are of fantastic quality, and allow us to sell our properties more effectively from plan. Not only are the team courteous and helpful, they produce the goods on time, and importantly are competitively priced."
Holly Finer
Redrow Homes
"The attention to detail and quality is exemplary and we would just like to thank you and your team for the care and effort you've put in. As a practice we will definitely bear you in mind if ever we are requiring models built in the future."
Kelvin Naidoo
Bryden Wood Associates
Architects and Designers for Manufacture
More testimonials >>