Architectural Models 1:200 Scale
(5mm represents 1 metre)
Housing Estate
This is a typical example of a marketing model for a new housing estate. Every time we deliver one of these to a marketing suite, the sales consultants tell us how invaluable the model is. It makes the development instantly understandable, giving potential buyers a great deal of confidence which is a vital factor in securing a sale.

Housing Development
Another typical marketing model for a new housing development - we have produced scores of these models over the years. This particular example was for one of the UK's largest house builders who keep coming back to us because of the high quality of our work and the reliability of our service. 1:200 scale is an ideal option for these type of housing development models.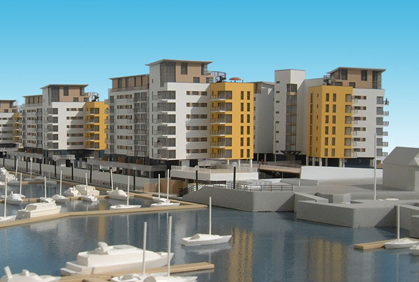 Dockside Apartments, South Coast
Six elevated apartment blocks with a raised central walkway and visible parking decks underneath made this a very technically demanding model. Added to which, three independent lighting systems illuminated different aspects of the model, including an individual control for each building.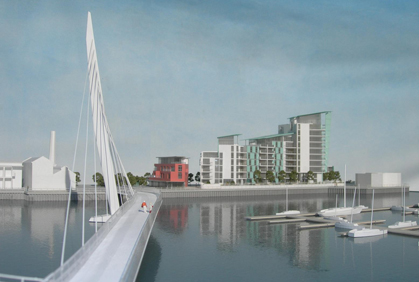 Waterside Apartments
Occupying a prime site in a docklands redevelopment area, the model was given added drama by including the nearby elegantly designed pedestrian suspension bridge.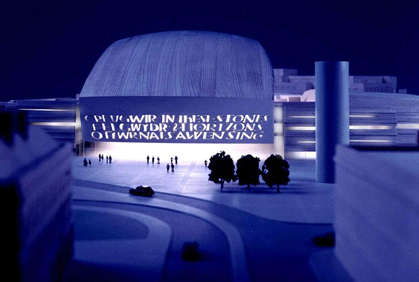 Wales Millennium Centre, Night View
An illuminated model of the new performing arts centre in Cardiff Bay. The model was made mostly from wood to echo the natural materials chosen for the finish of the building.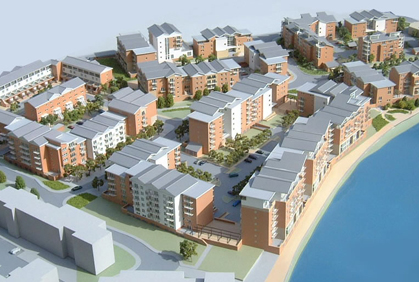 Waterside Apartments, South Wales
A very large model of a very large site. It started as a site model with one detailed area and later phases shown as massing blocks only. These were then detailed up as each new phase became active. All the buildings are fully illuminated.
White Apartment Tower
Two identical models of this dramatic building were produced at short notice, one for a nearby marketing suite and one for an exhibition in Saudi Arabia.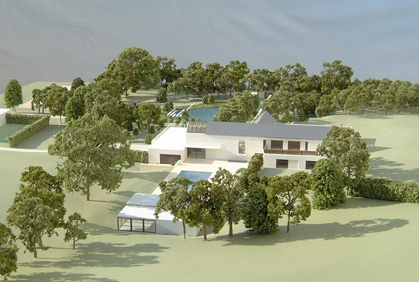 Private House Redevelopment
With complex landforming and a detailed landscaping layout, this 1:200 scale model was used to illustrate the overall redevelopment proposals for the site of this private house.

Plasma Power Station Model
The brief for this project was to create a stylized representation of this power station that could be packed into a travel case and taken as hand luggage on international flights. The only way this was possible was to make the model in two halves that stacked back to back inside the foam-lined case. The chimney stacks were too tall to fit so we designed them to be unscrewed and packed flat during transit.
Apr
2015
Two 1:400 scale models of parcel handling depot UK Mail ordered...
Read More
View All Projects
"Steven's studio is a pleasure to work with. He does excellent work and he always delivers on time. I would be happy to recommend him to anyone."
Jonathan Adams
(Architect for Wales Millennium Centre)
Capita Percy Thomas
"Thanks very much to all the team for producing such an excellent model, the attention to detail is fantastic. I look forward to working with you again."
Carolyn Merrifield
Holder Mathias Architects
"Modelmakers' models are of fantastic quality, and allow us to sell our properties more effectively from plan. Not only are the team courteous and helpful, they produce the goods on time, and importantly are competitively priced."
Holly Finer
Redrow Homes
"The attention to detail and quality is exemplary and we would just like to thank you and your team for the care and effort you've put in. As a practice we will definitely bear you in mind if ever we are requiring models built in the future."
Kelvin Naidoo
Bryden Wood Associates
Architects and Designers for Manufacture
More testimonials >>