Architectural Models 1:100 Scale
(10mm represents 1 metre)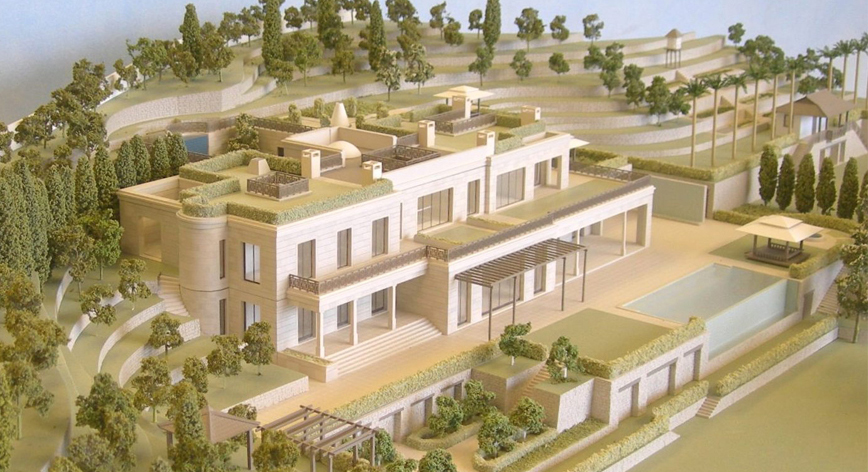 Cannes Private House
One of the main requirements of this model is to illustrate how the building design addresses this steeply sloping site, not just externally but also internally. The building actually separates out into three layers to expose the proposed internal room layout. There are two houses on the site, a main house and a guest house and both have lift-off layers to show the internal views. To facilitate transportation, the model is also made in two sections with the join being between the two houses.

Pharmaceutics Factory Model
GlaxoSmithKline needed a simplified representation of this facility to help illustrate the processes involved in Penicillin production. Our solution was this stylized 3D representation of the building with floor plates in clear acrylic, allowing the viewer to appreciate, at a glance, the vertical and horizontal layout of all the major industrial components involved in the process. Creating the model involved deciphering and rationalizing a huge volume of technical drawings so that we could design a pared down representation of the main production equipment. A crucial part of this process was keeping an ongoing dialogue with the client to make sure we were interpreting the information correctly. At just over 2.4 metres long, the model can be easily viewed by a group of people, making it an ideal starting point for a tour of the building.

Mobile Exhibition Venue
With the aim of marketing his mobile exhibition venues abroad, the client needed a compact model he could take on the plane rather than entrusting it to the baggage handlers of the world's airports. This was our solution. From an initial concept sketch, we designed and built the model in just 6 working days, incorporating removable roofs, interchangeable floor layouts and a Perspex cover. The whole thing measured just 350 x 290mm and fitted into a small padded suitcase that complied with on-flight hand luggage restrictions.
Low Rise Apartments
With a sloping site, complex multi-levelled roofs and numerous balconies and setbacks, there was a lot of structural detail that needed to be shown in this model at 1:100 scale. The client was very pleased that the model illustrated so clearly and instantly the different sections of the development.
Apr
2015
Two 1:400 scale models of parcel handling depot UK Mail ordered...
Read More
View All Projects
"Steven's studio is a pleasure to work with. He does excellent work and he always delivers on time. I would be happy to recommend him to anyone."
Jonathan Adams
(Architect for Wales Millennium Centre)
Capita Percy Thomas
"Thanks very much to all the team for producing such an excellent model, the attention to detail is fantastic. I look forward to working with you again."
Carolyn Merrifield
Holder Mathias Architects
"Modelmakers' models are of fantastic quality, and allow us to sell our properties more effectively from plan. Not only are the team courteous and helpful, they produce the goods on time, and importantly are competitively priced."
Holly Finer
Redrow Homes
"The attention to detail and quality is exemplary and we would just like to thank you and your team for the care and effort you've put in. As a practice we will definitely bear you in mind if ever we are requiring models built in the future."
Kelvin Naidoo
Bryden Wood Associates
Architects and Designers for Manufacture
More testimonials >>