Industrial Models
Models of Machinery – Models of Equipment – Models of Factories
We are often asked to produce scale models of industrial machines or equipment, from quite simple representations to highly detailed, very realistic looking replicas. These are usually for use at trade shows or exhibitions, but a few have been commissioned simply for display in board rooms or reception areas. If you scroll down below you'll see a wide and varied selection of the industrial models we have produced (please also visit the Exhibition Models link above).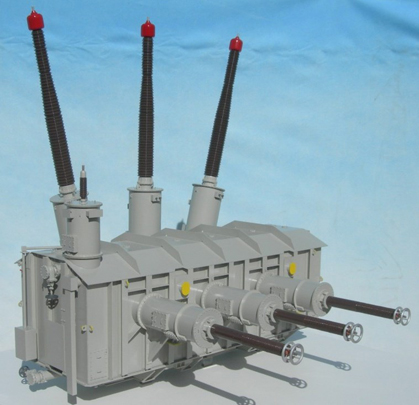 Transformer Model – Scale 1:20
The client for this project was on site in India when we first sent him images of the finished model. His comments were... "Absolutely brilliant, I'm here in India with the Senior Project Manager who managed this project for 2 years and he can't believe it's just a model". We were particularly pleased with the results ourselves, especially as it was such a technically demanding project due to the need for a high level of accuracy and very authentic detailing. The model is made predominantly out of laser-cut acrylic components with very careful hand finishing and assembly, plus a final coat of paint of course. It was mounted on a square base with a Perspex cover (overall dimensions about 650mm high).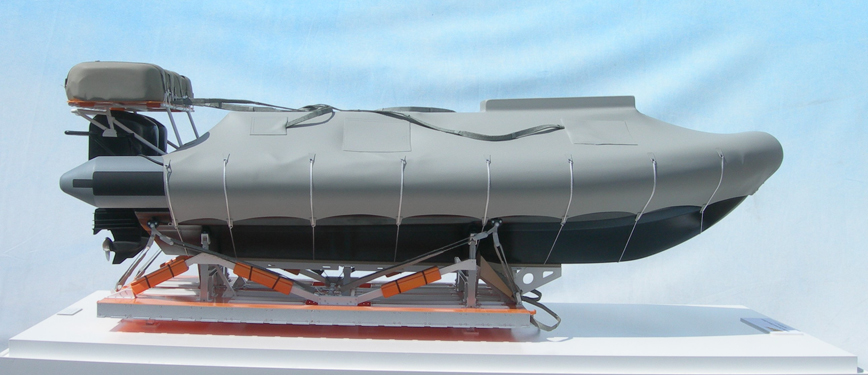 Military Equipment Model "PURIBAD" – Scale 1:10
– Platform, Universal, Rigid Inflatable Boat, Airborne Delivery... the name is an acronym for a platform specially designed for parachuting ready-to-go speedboats (or RIBs) into the sea. The model was commissioned as a demonstration tool for use at exhibitions. The client needed all the working components to be accurately modelled (hooks, straps, spring release clips, etc) so that he could explain the simplicity of the design and what made it such a reliable, proven system. It was a challenging project because of the high level of detail required and the wide variety of model making techniques needed to make all the model components.
Industrial Model of Container Tilter – Scale 1:10
This working model was commissioned for use at exhibitions to demonstrate the unique benefits of the client's product, a machine to increase the efficiency of container loading. Previously they'd had to ship the real thing at great expense but the working model offered a much more practical solution. Accurately detailed with the machine's time saving features fully operational, the model allowed the client to quickly and clearly demonstrate exactly how his product worked. The model had to travel to many different international venues so we also designed and built a flight case that could convert on site into a neat display plinth.

Pharmaceutics Factory Model – Scale 1:75
– GlaxoSmithKline needed a simplified representation of this facility to help illustrate the processes involved in Penicillin production. Our solution was this stylized 3D representation of the building with floor plates in clear acrylic, allowing the viewer to appreciate, at a glance, the vertical and horizontal layout of all the major industrial components involved in the process. Creating the model involved deciphering and rationalizing a huge volume of technical drawings so that we could design a pared down representation of the main production equipment. A crucial part of this process was keeping an ongoing dialogue with the client to make sure we were interpreting the information correctly. At just over 2.4 metres long, the model can be easily viewed by a group of people, making it an ideal starting point for a tour of the building.

Plasma Power Station Model – Scale 1:250
– The brief for this project was to create a stylized representation of this power station building that could be packed into a travel case and taken as hand luggage on international flights. This meant the overall dimensions of the case had to be no bigger than 560 x 450 x 240mm. The only way this was possible was to make the model in two halves that stacked back to back inside the foam-lined case. The chimney stacks were too tall to fit so we designed them to be unscrewed and packed flat during transit.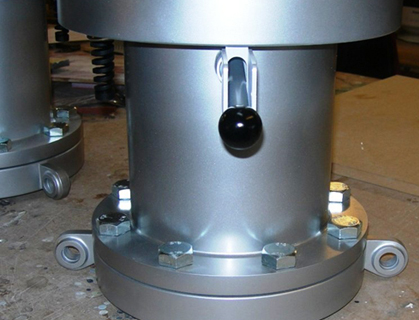 Industrial Model of Profiler - Scale actual size
This was a life-size industrial model of a piece of equipment that "profiles" the contents of large storage tanks for oil and associated industries. The client already had a steel mock up of the real thing but it was incredibly heavy and therefore difficult to transport. Made predominantly from plastics, our model was much lighter. We actually produced three identical units which included 500mm diameter acrylic display tubes and purpose-built flight boxes. They have been sent off to exhibition venues in various parts of the world.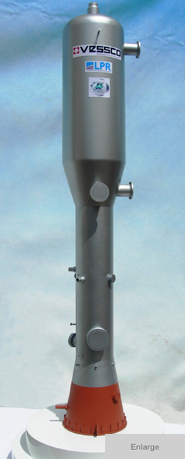 Industrial Model of Scrubbing Column - Scale 1:25
This is a model of an industrial component for the LNG gas processing industry. It's actually called a "Scrubbing Column" and the real thing is over 25 metres tall and 3 metres wide at the base. At this scale (1:25), it's about a metre tall. When the client commissioned the model we came up with the idea of giving it a tubular Perspex cover on a circular turntable base so that the model could be rotated to be viewed from all sides.
Trident Missile- Scale non-specific
At 2 metres tall this model of a Trident Missile is certainly not life-size and in fact we were unable to establish the exact dimensions of the real thing, hence the "Scale non-specific" comment above. It was made from a combination of fibreglass and plastics and had a painted and lacquered finish. The model was designed for use as an eye-catching display at exhibitions in the UK and abroad. Because it was destined to do so much travelling, the client asked us to design and build a tailor-made protective flight case.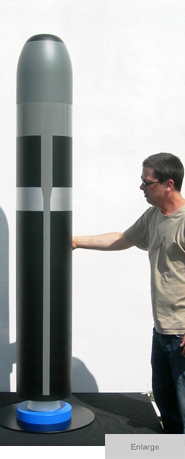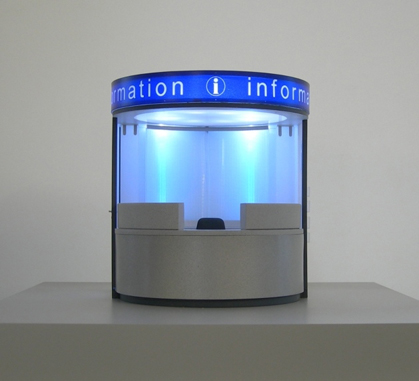 Model of Information Point - Scale 1:20
This model was used to help illustrate the proposed design of a new information booth. It had removable security screens and faithful representation of all the material finishes. Even the illumination was a scaled down representation of the proposed lighting system using white LEDs.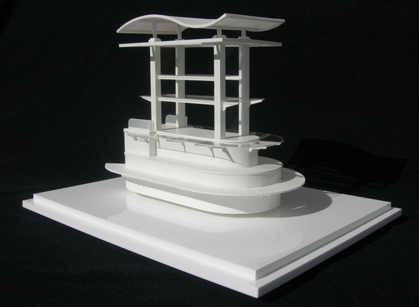 Retail Display Unit - Scale 1:20
When there isn't the budget for a full colour, realistically detailed model, sometimes this monochromatic, white styled approach is a viable alternative. At1:20 scale, this model is only 150mm high but with clear acrylic shelves and a matt white general finish, it provides an instantly understandable 3D representation of the unit. We've even been able to show the fine perforations in the curving roof panel.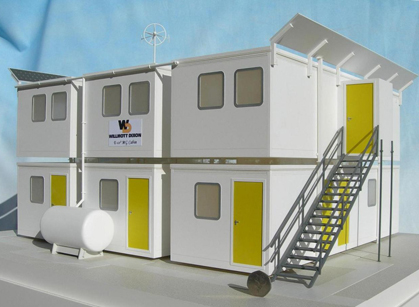 Portacabin Site Office - Scale 1:25
At this quite large scale, this was a fairly detailed model of what, on the face of it, is an uninspiring subject. However the model was actually commissioned to illustrate a proposed "environmentally friendly" site office featuring solar panels, rainwater collection, and a wind turbine. To get a sense of the size, if you look closely at the image you can see a 50p piece in the foreground at the bottom of the stairs.
Fully Functional R/C Crane Model - Scale 1:12
This working model was commissioned by a provider of specialist training for signalmen and crane operators who needed a fully functioning crane model to use during his training sessions. The most cost effective solution was to convert an off-the-shelf toy into a purpose-built machine. This involved scrapping about 70% of the original model, adapting the radio controlled motors to perform new functions, and remaking all the major working components. The model is now fixed to a desk in their training rooms and used on a weekly basis. It's definitely not a toy (although we did have a lot of fun "testing" it before it left our workshops).
Apr
2015
Two 1:400 scale models of parcel handling depot UK Mail ordered...
Read More
View All Projects
"Steven's studio is a pleasure to work with. He does excellent work and he always delivers on time. I would be happy to recommend him to anyone."
Jonathan Adams
(Architect for Wales Millennium Centre)
Capita Percy Thomas
"Thanks very much to all the team for producing such an excellent model, the attention to detail is fantastic. I look forward to working with you again."
Carolyn Merrifield
Holder Mathias Architects
"Modelmakers' models are of fantastic quality, and allow us to sell our properties more effectively from plan. Not only are the team courteous and helpful, they produce the goods on time, and importantly are competitively priced."
Holly Finer
Redrow Homes
"The attention to detail and quality is exemplary and we would just like to thank you and your team for the care and effort you've put in. As a practice we will definitely bear you in mind if ever we are requiring models built in the future."
Kelvin Naidoo
Bryden Wood Associates
Architects and Designers for Manufacture
More testimonials >>