Architectural Models 1:1000 Scale
(1mm represents 1 metre)
Cardiff Bay Marketing Model
Built to illustrate the proposed scale of several major development areas in a prime waterside location, this model used illumination to highlight the key sites in the project. Each of 11 different plots can be illuminated individually at the touch of a button. Even at 1:1000 scale, this model is 6 metres long by 5 metres wide and had to be built in 8 sections so that it could be transported and set up at different locations. It is a smaller, mobile version of the model shown on the 1:750 page.
Redevelopment Area Planning Model
We've made several models for local government backed redevelopment areas, and this was the third such project in the last couple of years. Winning all of them through a strict tendering process we had to demonstrate that we could deliver outstanding quality at a competitive price. This small scale model was used to illustrate the masterplan for the proposed redevelopment of a huge decommissioned steelworks site.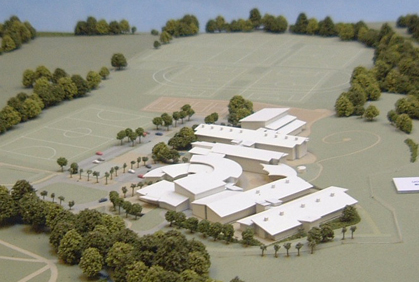 White School Model
For such a small scale this model offers a very clear demonstration of the roofscapes and general massing of this proposed new group of school buildings.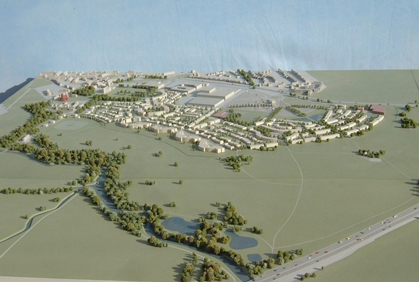 Planning Model For Housing
This model had two interchangeable central sections to demonstrate the massing of the existing disused industrial buildings compared to the proposed new housing development.
Llanelli Waterside Masterplan Model
Commissioned by the Welsh Assembly Government through an exhaustive tendering process, this model's role was to illustrate the new infrastructure and planning proposals for a major new development area in the docks and coastal fringes of Llanelli, South Wales. The model showed new road links, new residential areas, and commercial development areas. It also used button activated fibre optic lighting to highlight six different development zones.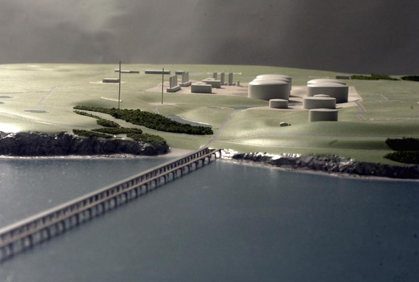 LNG Gas Terminal
This landform model was created for an exhibition informing the local community about a major redevelopment of a disused refinery site on the West Wales coast line.
City Centre School
Commissioned as part of a presentation for two proposed new school designs, this is another model that demonstrates the surprising amount of detail that can be achieved at 1:1000 scale.
May
2015
Detailed sales model for North London residential...
Read More
View All Projects
"Steven's studio is a pleasure to work with. He does excellent work and he always delivers on time. I would be happy to recommend him to anyone."
Jonathan Adams
(Architect for Wales Millennium Centre)
Capita Percy Thomas
"Thanks very much to all the team for producing such an excellent model, the attention to detail is fantastic. I look forward to working with you again."
Carolyn Merrifield
Holder Mathias Architects
"Modelmakers' models are of fantastic quality, and allow us to sell our properties more effectively from plan. Not only are the team courteous and helpful, they produce the goods on time, and importantly are competitively priced."
Holly Finer
Redrow Homes
"The attention to detail and quality is exemplary and we would just like to thank you and your team for the care and effort you've put in. As a practice we will definitely bear you in mind if ever we are requiring models built in the future."
Kelvin Naidoo
Bryden Wood Associates
Architects and Designers for Manufacture
More testimonials >>